When my husband and I decided to launch a skincare line, we had a clear vision of what kind of products we wanted to develop. Our key focus is developing effective, natural and unisex skincare products made from Icelandic pure water, using only carefully selected ingredients that benefit and enhance the skin's health to provide the best results possible.
Our health is our foundation, yet we only notice when something is wrong or if someone close to us gets unwell, sick or injured, that we are reminded how fragile our health can be and how vital it is. I remind myself everyday to be grateful for my health and to nurture and take care of my body in the best way I can.
I make a habit of taking care of myself from a 360 degree perspective: exercising, eating healthy, sleeping well, staying hydrated, and last but not least, taking good care of my skin. After all, our skin is our biggest organ and in order for it to BE, feel and look good, we need to pay attention to it and take care of it. That means focusing on what we apply and what ingredients we use.
I'm a health freak, I enjoy taking care of myself and my body – from the inside-out. It's truly self-care for me – both mentally and physically! It helps me be a better person in all aspects of my life. It allows me to tackle the daily challenges and tasks that we all face, in a fast-paced modern society and life, which as we all know, can be overwhelming and stressful at times. As an individual, a mom, a wife, and a business owner, there are so many areas of life pulling me in different directions. And I know I'm not the only one.
Life has a lot of stress already, and that's why I wanted to take the stress out of skincare – no more worrying about whether you can trust the products, the ingredients, the formulas! We wanted to make effective formulas with the best ingredients that slot effortlessly into my life and give my skin the health and nutrition it needs. Formulas that do for my skin what I try to do for my body.
After three-plus years of perfecting the formulas & packaging, it finally came to life in December 2019. We as owners have been involved through-out the whole process and can proudly stand by our products and say that we are extremely satisfied with the final outcome! We certainly hope that AK Pure skin is the right choice for you.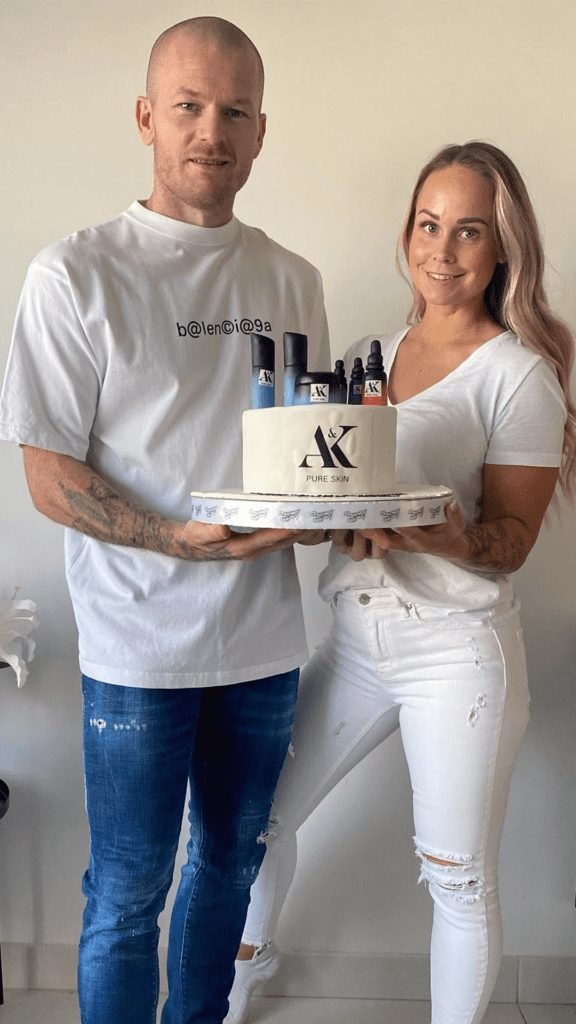 The owners of AK Pure Skin, Kristbjörg and Aron teamed up with Pharmarctica, a leading Icelandic production company. Which has the certificate of being a GMP Certified Manufacturing company, which means holding the highest quality standard of production facilities and work processes.
Our primary goal is to develop natural and pure skincare products with naturally derived formulas (about 90% of the ingredients are of natural origin), using only carefully selected ingredients that benefit and are healthy for your skin.
No skincare brand can make your skin look flawless, and we know that and that is not our purpose. Our purpose is to help you improve your skin, keep it looking healthy, glowing, and fresh to achieve the best-looking skin YOU can have. That is who we are; a pure, natural and down to earth unisex skincare brand that prides itself on being REAL, RAW & UNIQUE.
We are a pure Icelandic unisex skincare brand. Our products are 100% created and produced in Iceland.
Name: AK Pure Skin ehf
Kt: 650119-0290
Address: Túngata 7, 225 Álftanes, Iceland.
Email: akpureskin(at)akpureskin.is
Phone: 778-7786
AK Pure Skin products are unisex. Every formula and product is 100% created, owned and made in Iceland with the benefits of pure Icelandic water.
ALL PRODUCTS ARE FREE OF: Parabens, PEG, SLS/SLES, Silicones, Alcohol, Petroleum, Nano Particles, and Prohibited Materials.
CRUELTY-FREE PRODUCTS
Made in GMP certified facility in Iceland for AK Pure Skin ehf, Suðurlandsbraut 10, Reykjavík, Iceland
EU-RP: Pharmarctica ehf, 610 Grenivík, Iceland.
AK Pure Skin products sold in the akpureskin.is, an online store, are for personal use only. Under no circumstances may AK Pure Skin products be resold without the required licenses.
We want to thank you for choosing AK Pure skin and certainly hope that our products are right for you. The ingredients have been carefully chosen to meet high quality standards to get the best results!
~ Aron Einar & Kristbjörg